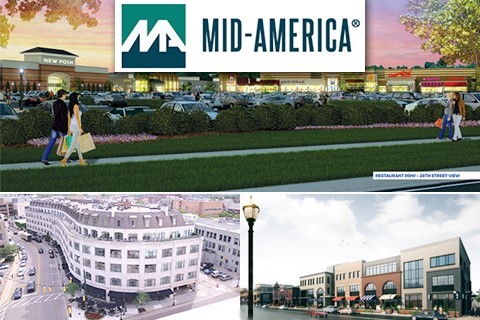 Mid-America Real Estate-Michigan, Inc.

Company Spotlight
Mid-America Real Estate Group
Mid-America Real Estate Group is the largest regional retail property services firm in the Midwest. The organization's exclusive focus on retail real estate, combined with cutting-edge technology and unsurpassed service, distinguishes Mid-America within the industry and provides clients with a competitive edge. The total consideration value of leasing and investment sales transactions facilitated by the firm was $1.2 billion in 2020. The company manages and leases more than 60 million square feet of retail space, and represents over 270 retailers. Mid-America Real Estate Group serves clients in Illinois, Michigan, Minnesota, Wisconsin, Indiana, Iowa, Kentucky, Missouri and Ohio. For more information, visit www.midamericagrp.com
Properties:
Freestanding Former Restaurant-21200 Haggerty Road, Northville

5,200 SF on 1.2 acres
A former freestanding restaurant is available for sale or lease at Haggerty and 8 Mile Roads in Northville, Michigan. There is prime visibility from Haggerty Road and I-275, which has 170,110 vehicles per day at the site.
Contact: Jack Uhazie & Daniel Stern

High Profile Restaurant Available-17101 Haggerty Road, Northville

5,267 SF
Located on the NWC of 6 Mile and Haggerty Roads, this restaurant space is located on the pad of the Northville Village Center which is anchored by: Kroger, Barnes & Noble, Bed Bath & Beyond, REI, Office Depot and PetSmart.
Contact: Jack Uhazie & Karen Gargaro

Cornerstone Plaza (Former Panera Bread) 23647-23881 Greenfield Road, Southfield

4,000 SF
Beautiful brick shopping center located in the heart of Southfield, Michigan. Situated north of Providence Hospital, with 459 hospital beds. The center offers great visibility, traffic and access to the surrounding communities. Opportunities include: former grocery and restaurant spaces. As well as ability to create new outparcel buildings.
Contact: Tony Schmitt, Brad Rosenberg & Brooke Wolf
Mid-America Real Estate-Michigan, Inc.
To Top